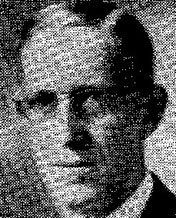 The Briles Information Network is proud to announce the addition of Kansas Senator Ernest Austin Briles to the
Famous Briles Page.
JoAnn Briles-Klein contacted the BIN in reference to Senator Briles and provided information regarding her lineage and that of Senator Briles. The late Senator is the son of the late
Harrison & Susan Hall Briles.
He was elected to the Kansas State Senate in 1940 and was a newspaper publisher in Stafford, Kansas. Senator Briles was married to Ada Cole and both are buried at Stafford Cemetery, in Stafford, Kansas. JoAnn Briles-Klein is the daughter of the late John Franklin Briles and Josephine Van Scoyk and resides in Kansas. Max Briles, brother to John Franklin Briles, was a avid genealogist. Max Briles genealogy research and information is used throughout the genealogy world and was a leading source for the Briles Surname!. Again, the BIN is honored to add Senator Ernrest Austin Briles to the Famous Briles Page! I would also like to thank Kim Harp, Legislative Reference Librarian, State Library of Kansas, for researching and emailing Senator Briles' photograph!