UPDATED: 2:00 p.m. August 6, 2009 by R. Trent Briles
Published date: 9:00 p.m. August 5, 2009 by R. Trent Briles
UPDATE:

MANATEE, FL-It appears blunt force trauma killed Kathleen Briles, wife of Palmetto Dr. James Briles, Manatee Sheriff Brad Steube said today at a news conference. Sheriff Steube declined say what was used to kill Briles, but said detectives did recover the murder weapon. Steube said the doctor has been cleared as a suspect in the case by confirmed alibis. You can follow the rest of the news conference by following this link.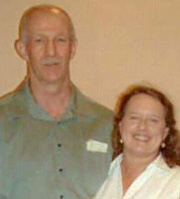 DATELINE FLORIDA-The Briles Information Network has received word of a murder in Manatee, Florida. Kathleen Briles, wife of prominent Dr. James Briles, was found slain sometime Monday, August 3rd in the couple's home. Florida police have confirmed that Mrs. Briles died a violent death and the case is under investigation. You can follow this breaking story here.

At this time, the BIN does not have the lineage for Dr. James Briles in Florida. If anyone has information regarding this case or lineage information, please contact R. Trent Briles here at the Briles Information Network.

BIO:Dr. Briles was born in Corning, Iowa. He attended Northwest Missouri State University from 1970-1971. He then transferred to Grinnell College in Grinnell. Iowa, where he earned his bachelor's degree in psychology in 1975. He received his medical degree from the University of Iowa College of Medicine in 1980. Dr. Briles completed his internship and residency at Mercy/St. Luke's Hospital from 1980-1983. Dr. Briles joined the North River Family Health Center in June, 1984.-Courtesy of Bonnie Jones, contributor to the BIN.