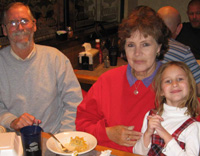 Our little angel Cameron Jewel Briles turned five years old two weeks ago. Cameron celebrated her birthday at Christo's Pizza Parlor in Lexington and all had a good time.
Cami is the daughter of Rodney "Trent" and Tosha MEDLIN Briles, curators of this web site. Cameron will be attending kindergarten in the fall, however she is not looking forward to the change. Attending the party were both sets of grandparents, Uncle Derek and Aunt TC Medlin, her cousin Chase and his parents Bruce and Betty Draughn and Shirley Hill. Cami is seen here sitting with her grandparents, Jim and Cathy Cameron Briles. We look forward to many more birthdays with the Spoofy!
Here is the link for Cameron's birthday gathering at her favorite place.