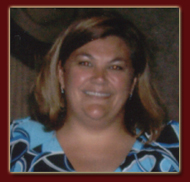 Novant Health Triad Region has recognized Tosha Medlin Briles for excellence as part of the 2008 Remarkable 45! Nurses. The program honors the top 45 nurses in the region based on their leadership and professionalism while working with patients.
Tosha works for Novant at the Thomasville Medical Center working in the ICU Department. Datra Delk-Patrick and Kathy Saintsing were also recognized at the award ceremony, which took place at Bermuda Run Country Club in Clemmons, NC. You can view the group picture by clicking on Tosha's picture.

Tosha is the daughter of Paul "Dickie" and Phyllis Holder Medlin and the mother to Zachary Flowe and Cameron Briles. Tosha is married to R. Trent Briles, curator of the Briles Information Network. Congratulations Tosha on this OUTSTANDING AWARD! YOU DESERVE IT!